The Rook Presents: Tiger Woods' Too Good To Be True
// May 12th, 2010 // Uncategorized
Sometimes I think "wow, it just can't get any better than this"…and somehow, it just does.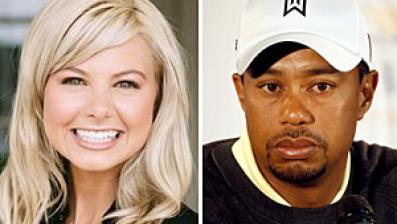 Fruedian slip from a Golf Channel reporter, Win McMurray, on the latest Tiger Tales takes the cake.  Calling "his 'bulging disk' a 'bulging d–k,'" regarding his withdrawal from the final round of Player's Championship.  Poor lil Bombshell McMurray.  She really was just another pretty face.
"[Woods] says he's been playing with a bad neck for about a month and thinks it could be a bulging d–k," the broadcaster said Sunday in a voice-over before immediately correcting her faux pas." - FOXNews.com
Bulging indeed.  Now that Tiger knows she's easy and sportscasters know she's soft, she'll just have to pull it together and face the music.  She just wants to know what the rest of America is wondering…holla, sista!  But there are plenty of other, tactful ways to get the goods.  Next time, might I suggest:
Tiger, on your tours/engagements…do you prefer to start out on top or come from behind?
Your ideal leisure time: spent at the Grand Tetons or Devils Butte?
Regarding Nike's tagline "Just Do It" - lifestyle or verbal command?
Win, Win, Win - we can't blame you for being honest, but we can blame you for being stupid.  Chalk it up to a dumb white chick; there's nothing like a good pull-out…I mean…withdrawal to get Tiger back in the spotlight.
5 Responses to "The Rook Presents: Tiger Woods' Too Good To Be True"
Leave a Reply