Wake Up! With My Girlfriend Flexing Her Way Into Mid Week
// May 11th, 2010 // Uncategorized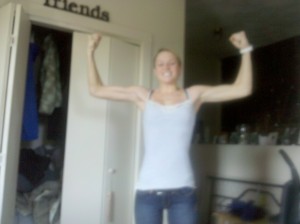 I wake up every morning and it is at least a pot of coffee before I'm functional.  Think of Jeremy Piven's breakthrough roll in PCU Anyway, me and the roommate here, yes I live with my girlfriend, are like yin and yang.  She's super chipper in the morning, leaves for every work telling me to "blog with a smile, hunny." So there I was this morning, extra groggy and out of coffee, she decided this would be the best way to wake me up.  Wrong, Wrong.
13 Responses to "Wake Up! With My Girlfriend Flexing Her Way Into Mid Week"
Feed that girl something.. haha

We the people ask that when posting pictures of your girlfriend that they are more clear. please and thank you.
Leave a Reply