News Out Of UConn: Edsall Coaching Safeties…The Player's Perspective
// August 12th, 2010 // Uncategorized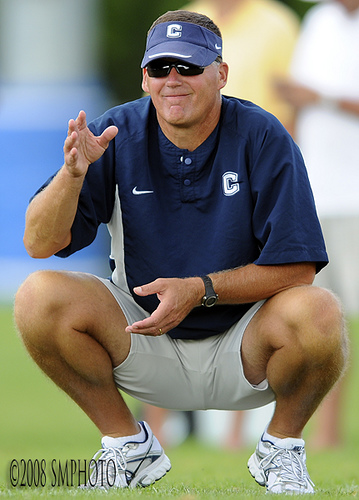 ESPN:
Edsall coached defensive backs early in his career at Syracuse and then with the NFL's Jacksonville Jaguars. UConn appears loaded this season at most positions, but safety could be the weak link, and Edsall is regarded as one of the game's best teachers.
Normally I don't like to agree with the "media types" because so often "they" have it very wrong.  But on this one, they are right.  Edsall taking over coaching duties for the safeties is the best move he could have made as a "CEO" (his words, not mine).  The safeties, with the departure of Vaughn and McClain are a weak point, this much you already know.  But, here at FWG we (I) like to go the extra mile.  To answer the question you probably won't see answered anywhere else which is, how do the player's feel?
Remember a few years back when Coach Lyndon Johnson had some medical issues and was sidelined during Spring football, Edsall installed himself as the Husky linebacker coach.  Well like was miserable and excellent for those guys.  Imagine being held to an even higher level of accountability (the head coach is now running your position).  In that sense it is torture, the cold sweats, the nervousness, the man that holds your fate in his hands is personally evaluating every snap you take.  I can even remember linebacker Scott Lutrus telling me, "I can feel the head man's breath on my neck."  But on the other side of it, it presents an opportunity learn from one of the best teachers in the game.  It is also a chance to see your coach as a person.
So often in college football, you are close with your academic staff, position coach, and of course strength and conditioning.  The head coach is wrapped up in all matters of the organization and unless you are an integral part of the team's success (hat tip, Donny Brown) then the time you spend one on one is minimal (unless you've skipped class, then it is all too personal).  Edsall will be holding these guys to a level of accountability they've never seen (especially for such a young group).  But he is also the best man for the job, and for that they are incredibly lucky.
13 Responses to "News Out Of UConn: Edsall Coaching Safeties…The Player's Perspective"
Good stuff Rob. Really like the perspective of a former player.

Scott Lutrus is what Hitler envisioned when he designed his Master Race.

woo hoo woo hoo hoo, woo hoo woo hoo hoo, you have a six AM, woo hoo, woo hoo hoo

…fuck
Leave a Reply