It's true love for Jessica Simpson and Eric Johnson
// November 17th, 2010 // Uncategorized
Sources confirm to UsMagazine.com that the singer, 30, became engaged to beau Eric Johnson on Thursday, just days after Us broke the news that her ex-husband, Nick Lachey, popped the question to Vanessa Minnillo, his love of nearly five years. Simpson and Lachey, 37, split in 2005, after three years of marriage. [MSNBC]
So just before she hits age 30, Jessica Simpson gains a fiance. And like thirty bills (yeah, yeah act like you didn't notice)…at least we know this time it's true love, right? Because if your guy can watch you slam buckets of  "sorry I don't eat buffalo" wings til you look like you've applied lip plumper to your entire body, then it's love.  Fa'sho.
Way to become the icon for every uber-feminist ever.  While the rest of us get our P90 on at 5am, treat yourself to another muffin top with a tall glass of "my man loves me for my personality"..
I'm all for working with what you got.  But if I have this: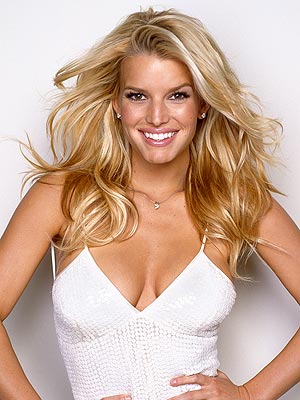 …then you bet your daisy dukes that I'm hustling every. day. on the treadmill until my lungs bleed.
xoxo - The Rook
9 Responses to "It's true love for Jessica Simpson and Eric Johnson"
Leave a Reply