Randy Edsall To Maryland: My Take
// January 4th, 2011 // Uncategorized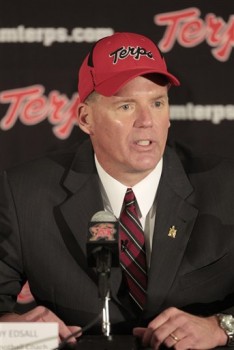 They were waiting for him to arrive.  The 2011 Fiesta Bowl was barely in the rear-view mirror, with Oklahoma holding the trophy, holding their fairy tale ending.  So the 25 players and assistant coaches, sitting in aisle and window seats were just waiting.  Assistant coaches received a call from the operations director, "No suits on the flight, head man won't be riding back."  A lapse in the dress code?  Something had to be going wrong.
Over the past decade of UConn football he's been known by many names; Savior, Leader, Headman, Randy, Coach,  During that same time period, the grumblings of other coaching offers came and passed, with UConn, it's players and staff (and alumni) feeling safe.  They'd found the man that took them from toiling in obscurity, to Division I, then the Big East, two shares of a conference championship, five bowl games, and most importantly guiding them through the traumatic death of Jasper Howard.  So where was he now?
Apparently to the ACC.
I've had the pleasure of knowing Randy Edsall since my recruitment in 2004, 5 seasons under his tutelage and now as a working professional straddling a delicate line between media personality, blogger, and alumnus; ending up in his cross hairs for breaking "stories" about a coaching change and the proud recipient of several voice mails and stern calls, the take away message was, "If  you want the story, I'll give it to you."  No, the irony of that moment is not lost on me now.
I sit here in Arizona, less than 24 hours removed from "the announcement" in a hotel room with several alumni, all texting and calling and reaching out to former coaches and players, one part consolement, another part searching for justification, explanation.  After tapping the resources of our contact lists, which includes athletic department officials, former and current coaches/players the consensus was: No one knew.
Not assistant coaches waiting on a plane, athletic department officials now scrambling for a replacement, not players sitting in hotel rooms, or recruits scattered across the country.  No one.
For this I feel sad, I feel betrayed, I feel a little lost.  Then again, this is the business of college football.  For a long time I've had the distinct pleasure of looking at the coaching carousel in the NCAA, hunched over a laptop striking keys with disdain, turning my nose up at the notion that my alma mater (the birthplace of FWG) would ever be a ship under a different captain.  My ignorance was bliss, as I argued with fellow alums and media members that, "Randy has already turned down offers from Notre Dame, Syracuse and Georgia Tech…if he didn't take those proverbial dream jobs he'll never leave UConn.  Not to mention he's got the AD in his corner, a brand-new facility, and the hearts/minds of the Connecticut population."  I'd also start pulling on the heart strings of his tenure in Storrs, "He's built something there, he'll be a lifer…"
Those words now echo with a twang of stupidity, the sting of blissful ignorance.  In reaching out to coaches former and current, a new light was shed.  Those jobs he "turned down"?  Well, he was third on the list for Notre Dame (they wanted Brian Kelly from the beginning).  Georgia Tech?  That was a negotiating move with UConn.  And those lovable losers with all that tradition at Syracuse?  They wouldn't pay him the kind of money he was looking for.  So as it turns out, Maryland was a real opportunity to jump at, and he did.
There are a lot of things about the decision that I don't agree with, namely the fact that his coworkers, the men he'd shared 70 and 80 hour weeks with for over a decade had no clue; not so much as a text message.  Yes, these are people who work in a fickle profession, but they are men with kids and families.  That hurts.  The lessons I learned from my time with Coach Edsall are many: hardwork, determination, unrelenting commitment to a goal, but above all else: do the right thing all the time.
I wish this decision was that black and white: did Randy live by his mantra?  Was this the right thing?  Unfortunately life is not that cut and dry, there are layers; shades of gray.  The Maryland job makes sense on a monetary level, but also on a personal one.  With Coach Edsall's father passing away in 2008 there has been a strong draw to get closer to home, closer to his family.  I understand that emotion as a person, especially knowing Coach Edsall and his commitment as a family man; it was something I loved about him and a big part of what brought me to Connecticut.
I remember an exact conversation on my recruiting visit, sitting in his office as my Dad asked, "I can't pick up a paper without seeing your name mentioned for every and any coaching position.  Will you stay here at UConn?  What's to keep you from leaving?"  Edsall looked my my family in the eye and said, "I can't tell you that if the right opportunity presented itself I wouldn't leave.  But I can also say I'm not actively looking to leave UConn.  We're trying to build something here…"
That was a stark contrast to the answers of coaches across the football ranks, from the Atlantic 10 to ACC who told me, "You know son, I see myself here forever.  This is my home."  Precisely all of those coaches have moved on.  So if Edsall kept his word, if he spent another 6 years building the program, if he thought his work was done, then why do we feel slighted?
I'm sure some of it has to do with the way it was handled; coaches kept in the dark, or possibly the direct contrast to how Jordan Todman had to stand up and address the team about his NFL intentions yet Edsall remained silent. But I have a feeling it is because UConn, while a program that has officially arrived,  is still one in its infancy of its history.  UConn is in the process of creating its own traditions, learning the lessons of major college football, writing the story of football in Connecticut.  Unfortunately, this is one such chapter no one wanted to read.  UConn having known so much success, has only known one man.  All major programs have coaching changes, this was UConn's first major transition.
I wish Edsall nothing but the best (except for one week in 2012 and 2013) and I know he will have an uphill battle against the media in Connecticut (nothing like an easy target).  I also know he'll bring the model for success he instituted at UConn to UMD.  The bottom line is that this stings, and I'm not sure I agree with the way he handled the respective careers of his staff (then again I'm not sure that's even his responsibility, but after 10 years I have the inclination that it is).  Things could have been worse, he could have pulled a Brian Kelly and abandon his team before their moment in the limelight.  This wasn't executed cleanly by any means, I won't contest that.  I won't even say I'm in anyone's corner.  I am a product of Randy's belief in me, a student of Hank Hughes and Todd Orlando's and I owe an untold amount to Drew Wilson and Jerry Martin, but mostly I'm a UConn guy and I always will be.
For the players, and fans like me, remember that it's about the University, not one Coach.
UPDATE:
UConn Strength Coach Drew Wilson, previously rumored to be replacing Jerry Martin as UConn's head of strength and conditioning has accepted a position as the head strength coach in charge of football at the University of Maryland .
11 Responses to "Randy Edsall To Maryland: My Take"
[...] This post was mentioned on Twitter by Jason Page. Jason Page said: RT @TheFatWhiteGuy: My Take on Randy Edsall Moving On To Maryland : http://ow.ly/3yf8m [...]

Well said Rob! I know this has to be a major personal disaapointment for you but I applaud your ability to write a very thoughtful and objective piece. I am so proud of you. Love, Dad
Leave a Reply