No Crosby, No Malkin, No Problem
// April 16th, 2011 // Uncategorized
The FWG continues its series of inside looks at the NHL Playoffs.  This edition comes to you from Zach Stahl and Matt Leonard, two die hard Penguins fans who used to play a little hockey themselves.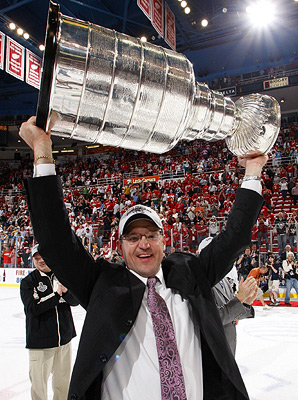 Life and energy are back in Pittsburgh as the Penguins are making their 5th straight playoff appearance. Although the normal star power won't be there with captain Sidney Crosby and forward Evgeni Malkin on the shelf, the penguins are winning with great goaltending, mean and aggressive defense, and much appreciated hard working players like Max talbot and Tyler Kennedy. Not to mention the master mind coach Danny Bylsma. If it's one thing Bylsma knows it's winning. In just 3 years with the Pens, he has a ring and two more playoff appearances. The Pens may be lacking in the scoring department without Crosby and Malkin, however; with great dedication, hard work, experience , and the hunger to win; this group of kids have a great chance to make another deep run in the race to Lord Stanley's Cup.
Coming into the Playoffs, the Pittsburgh Penguins were red hot winning eight of their last ten games, with their power play starting to click. The Pens drew a first round matchup against the high powered offense of the Tampa Bay Lightening. With 99 point getter Martin St.Louis , sniper Steven Stamkos , and captain Vincent Lecavalier, the Bolts shouldn't have to worry about putting the puck in the net. You can't forget the veteran tender between the pips Dwayne Roloson who has already won a cup. I think it's fair to say that this number 4 vs 5 matchup is going to be great one.
The Pittsburgh Penguins, without the two headed point monster of Sidney Crosby and Evgeni Malkin, have not shied away from the challenge of overcoming the adversity at the most crucial time of the year. For the Pens , Bylsma has Letestu in the middle between trade deadline pickups Alex Kovalev and James Neal. On the second line he has Staaley in the middle of Kunitz and the hard working Tyler Kennedy, who as of late, has be producing points any fan would be proud of. Running the 3rd line is Talbot in the middle, flanked by Dupuis and Chris Connor.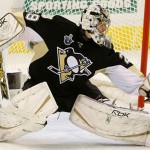 When the game gets physical the Pens rely on the hard hitting of Mike Rupp , Aaron Asham , and Craig Adams. Holding down the blue line is Carrerr, high point getter Kris Letang, Brooks Orpik, Pauly Martin, Mechalek, Lovejoy and Niskanen.
In between the pipes is the highly entertaining Marc-Andre Fluery. Fleury was the team's MVP which is well deserved considering all the injuries the Pens have faced, and his superb play late in the season.
With the combination of hard work, great coaching, and solid goal tending on both sides of the ice, this 4 vs 5 match up should be a fun high paced enjoyable series!
One Response to "No Crosby, No Malkin, No Problem"
Leave a Reply