Searching for Hogan-esque Heroes on Sunday
// April 7th, 2011 // Uncategorized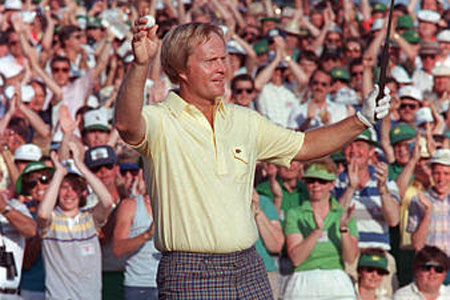 Watching "Yes Sir: Jack Nicklaus and the '86 Masters" narrated by his son Jackie, got me thinking about my own dad, who recently retired.
After working as a dentist for over 30 years, he hung up his drill and has attempted to settle into a life of leisure. Not an easy task for someone like my dad, who has been doing something for as long as he can remember.  Now all of it sudden it's not part of his life anymore.
The end of a professional career, much like the end of a brilliant sports career, is usually not as simple as an ensuring you have an adequate retirement fund. Though it may take my dad a little while, I have no doubt he will enjoy his retirement once this never-ending winter relents and he can get back on the golf course. Those who do seem to accept the twilight of their athletic endeavors are often crippled by withdrawal, causing them to scratch away at their good sense until it lures them back onto the field, or court.
We judge these decisions because, like our parents, our heroes are held to a different standard.
In 2011 these lofty standards seem grossly naïve.
In the late 40's and 50's there were true American heroes throughout the sports world. They were men among men. They married their high school sweethearts and drank canned beer. They sacrificed years from their primes to defend their country. They were not forced into service, they just could not get away from that voice inside them that propelled them to pick us all up and throw us over their shoulders. When they lost they were not spraying blame around to anyone who would listen. They owned up to their mistakes.
For better or worse, their influence can be seen in the generation of boys who grew up watching them.
My dad's favorite golfer when he was a kid was Ben Hogan.
In 1949 while driving down a country road in Van Horn Texas, Hogan, one of the best golfers in the world at the time, found himself face to face with an out of control Greyhound bus. The bus had swerved to pass a slow moving truck and was now bearing down on Ben Hogan and his wife Valerie. In an instant, and without hesitation, Hogan threw his body across the front seat of the car to protect his wife from the impending impact. In showing a complete lack of regard for his own life Hogan may have in fact saved it. Had his mind not instantly shifted into that 'carry the world on my back' mentality, he would have been crushed as the accident pushed the engine through the front of the car and into the driver's seat.
As a result of his actions, his wife suffered only minor scratches. Though he had escaped with his life, Hogan had broken his collarbone and an ankle, crushed a rib, and endured a double fracture of the pelvis. As Hogan sat in a hospital in El Paso recovering from his injuries, he developed a blood clot that forced doctors to tie off the principal veins in his legs to stop the clot from reaching his heart.
Medical experts felt that the injuries would prevent Hogan from ever wasting a good walk again.
Sixteen months after the accident, and still showing a visible limp, Hogan won the 1950 US Open at Merion. In a remarkable display determination he hung around all weekend before sticking a one iron to force a playoff with Lloyd Mangum and George Fazio. Then the next day a physically exhausted Hogan shot a 69 to capture the title. The nation united behind Hogan, hoisting him on its collective shoulders and honoring him with a ticker tape parade down Broadway. The circumstances that led to Hogan's injuries, and his subsequent triumph, created a hero that transcended sports.
After learning more about the man who had struck his last important shot before I was walking, I see how he impacted the young boy who grew up to be my dad. Hogan exemplified hard work. He practiced day and night to perfect his game. He was a hero that wanted none of the credit or fanfare that came with the role. I see many of these qualities in my dad, who values a good day's work above all else.
Watching a "washed up" Nicklaus defy the odds and give people something to truly cheer about, as Hogan had, I began to wonder how our modern day heroes would stack up in my father's eyes.
I remember watching Tiger Woods limp through the US Open in 2008 on a broken left tibia and with no cartilage in his left knee. That's the leg that bears the force of his violent swing. Even for someone who didn't like Woods, it was a pretty gutsy performance. Afterward, I wanted to run up to my father, boasting about Woods like a little kid showing off his report card. For some reason I didn't.
Now, three years later, as Tiger has gone from a robotic prodigy stalking the record books, to a cautionary tale so over the top, he is more of a punch line than golfer, I think I know why.
My generation has been affected by our favorite athletes the same way that Hogan influenced my dad. The difference is, what we have been left with is doubts. We have 24-7 access to every aspect of professional athletes lives. The good, the bad, and the horrifyingly ugly. No one can live up to the sterling examples of men like Ben Hogan because we don't want them to.
That kind of hard working, selfless mentality doesn't sell.
As a result, my dad is likely to get more joy from watching "Yes Sir", than from all four rounds of the Masters this weekend. As he tries to settle into his retirement, I wish my generation had something better to offer him on a Sunday afternoon.
——Corey
10 Responses to "Searching for Hogan-esque Heroes on Sunday"
Leave a Reply