What Is and What Could Have Been Said
// May 12th, 2011 // Uncategorized
There are lots of things I could say the after Celtics season ended last night.
I could blast Danny Ainge for blowing up a team that had spent an entire offseason saying they had never been beaten when they had all their parts intact.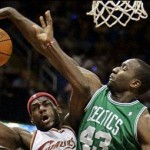 I could say that if we had kept Perkins I wouldn't be writing this.
I could ask Ainge why he decided to bring in four players (Murphy, Pavlovic, Krstic, and Arroyo) that didn't fit the team's makeup and who weren't going to leave the bench in the playoffs.
I could blame Doc Rivers for being too loyal to Rondo in Games 3 and 4, when it was clear that the team was better offensively with Delonte West on the court.. But after the heart that the kid showed by coming back onto the court with a mangled arm in Game 3, I'll be damned if I wouldn't have done the exact same thing. You win games with smart decisions. You win wars with guys like Rondo.
I could bitch about the officiating. There were certainly enough bad calls in Game 5 alone to justify it. Starting with Bosh being out of bounds right in front of the official, to the point where you could see the officials shoes pointed directly at Bosh's foot as it stepped on the line in the replay, before he kicked it out to Lebron for a momentum killing 3 in the first half. Then Wade getting a phantom foul on Krstic, while Pierce failed to draw a foul when there was actual contact a play later. There was also a clear foul on Wade that the refs gave to Mario Chalmers, and two dubious fouls on Pierce that kept him on the bench for most of the game. Add in the fact that Wade was allowed to run around all series like a combination of Bill Laimbeer, Isiah Thomas, John Stockton, and Jeff Gillooly, and I would certainly have a point.
I could complain that in today's superstar driven NBA, playing a team with Lebron James and Dwayne Wade is impossible. They are too good to be given the advantage of getting a whistle every time they throw their body into a defender.
I could accept that this Celtics team was brought together to win a title within three years, and they did just that.
I could say that the Heat rose to the occasion in playoffs the way we expect the Celtics to.  They also got big games from role players like James Jones, Joel Anthony and Mario Chalmers.  Something that had been a staple of the Celtics for the last four years.
I could also say that I'm just pissed off that my team lost, and like an unmanned fire hose, I'm spraying blame all over the place.
But I won't.
What I will say, is that Lebron came out after the game and said that the inspiration for taking his talents to South Beach, was the way the Celtics built their team three years earlier. The fact that he only made the comparison after pushing Boston to the brink bothers me.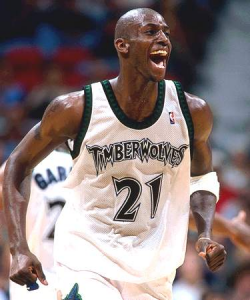 Like Lebron, Kevin Garnett kept his teams competitive for 11 years with men like Latrell Sprewell, Stephon Marbury, Tom Gugliotta, and Michael Olowokandi. If not for the injuries to Sam Cassell and back up PG Troy Hudson to start the Western Conference Finals, Garnett would have had a chance to beat the Lakers in '04 and earn a spot in the Finals. Unlike Lebron, Garnett never bitched about his plight. He never called out his teammates and never blamed the front office. Finally Minnesota realized they needed to move the aging superstar, because they weren't in a position to win and needed to rebuild.
Boston traded Al Jefferson, who many considered one of the best young big men in the game, as well as six other players to Minnesota, in order to get Garnett.
Compare that with Lebron whose team had just finished a season where they finished with the best record in the NBA, and failed to advance in the playoffs because he quit on his teammates against the Celtics. It's hard to call someone as talented as Lebron a quitter, but he went 3-14 in a must win game and was demonstrative, and pouted when other players screwed up.
Then Lebron strung his former team along publically, while he went on dates with every other NBA franchise.
Whether you like the man or not, could you ever picture Garnett quitting on his team or auctioning himself off in a public meat market?
Ray Allen was a gamble. The man was a solid NBA player who had just underwent surgery on both of his ankles at the age of 32. He was brought to Boston, along with Glen Davis, in exchange for Delonte West, Wally Szczerbiak, and the 5th pick in the 2007 draft.
Compare that with Chris Bosh, who is ten years younger than Ray Allen, and was considered to be in the prime of his career. Bosh invented the game that we all saw Carmelo play this past season, where he held his team hostage all season, and it paid off.
In Garnett and Allen you had two classy veterans who were slightly past their prime. They joined Paul Pierce, who had been suffering through Antoine Walker's shimmying and Pitino using the NBA as his own personal fantasy camp, in an attempt to win a title.
And that's the only similarity.
Lebron and Bosh jumped onto Wade's ship in order to win a title.
They wanted to play together. They made a plan to play together, and executed it regardless of the consequences to the fan bases that had supported them for their entire careers.
How is a team trading its best player because it was time to move on, the same as the game's most exciting player quitting on his team so he could have an out at the end of the year?
How is a team taking a chance on a good, not great, shooting guard with reconstructed ankles the same as a franchise player playing out the string (Bosh sat out a pivotal game against the Bulls that could have gotten the Raptors into the playoffs) and following his friends for a giant pay day?
How is Wade acting like a free agent pimp the same as Paul Pierce finally learning to be a leader, and embracing the responsibility that comes with being a team captain of a young team?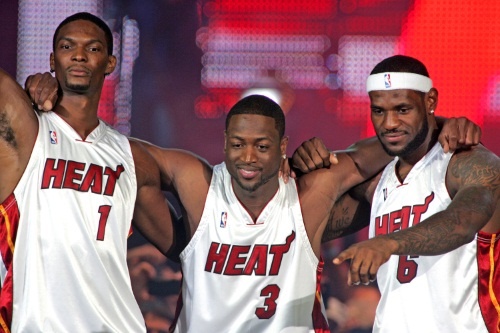 The answer is that they ain't in the same ball park. They ain't in the same league. They ain't even the same fucking sport.
You wanted to turn your back on your team and go try and win a title with your friends, then just say so. Don't tell the world, almost a year later, that you were inspired by the team that you are about to beat in the playoffs. It's not only a disservice to men like Kevin Garnett and Ray Allen, who took less money to build a team, to be lumped in with you and your boys, who handicapped a team's pay role so you could spend more time together, it's a disservice to basketball fans.
You remember the fans don't you Lebron?
They were the people who used to have a hard time staying in their seats whenever you touched the ball.
Now they have a hard time not changing the channel every time you open your smug, arrogant mouth.
"For when the One Great Scorer comes to mark against your name, He writes, not that you won or lost, but how you played the game." – Grantland Rice.
That's good advice Lebron, that's good advice.
—–Corey
6 Responses to "What Is and What Could Have Been Said"
Leave a Reply