Weekend Recap: The Change Up Edition
// June 6th, 2011 // Uncategorized
Normally I'm against remakes, rip offs, re do's, or whatever else you want to call them.
But when you take Ryan Reynolds, an underrated comedic actor due in large part to his propensity for posing without a shirt on, which isn't funny, and add in Jason Bateman, brilliant in Arrested Development, to put a new twist on Trading Places, I'm in.
Even when the plot revolves around the two guys peeing into a magic fountain.
In honor of a rip off I can get behind, I present The Change Up edition of the Weekend Recap.
************************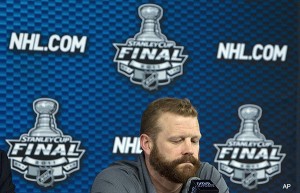 Tim Thomas and Brett Favre apparently peed in that same fountain.
The Bruins lost Game 1 of the Stanley Cup finals with eighteen seconds to go in the 3rd period. It was a tough way to lose a game that they had dominated, but it pales in comparison to how Vancouver beat them in Game 2.
Tim Thomas, a gunslinger goalie who hates staying in the net to begin with, transformed into Favre just before overtime. It is the only way to explain why he was halfway to the blue line eleven seconds into overtime. The play was eerily similar to Favre's interception to keep the Vikings out of the Super Bowl in 2010, where instead of playing it safe and going for a field goal, Favre threw across his body and into the arms of Tracey Porter.
They were both plays that didn't need to be made, and both cost their team the game.
It's hard to call Thomas out, but for every great sprawling save, there is an ill advised trip out of the net that makes Bruins fans cover their eyes. The difference between Aaron Rodgers and Brett Favre, other than possessing class and dignity, is that he knows when to hold em, and he knows when to fold em. Favre doesn't know when to walk away, or when to run.
As a Bruins fan, I hope that Thomas hides his money a little better tonight, when he's sitting in the net.
Cause if they go down 3-0, the series' done.
***********************
You know who else found their way to that fountain this weekend?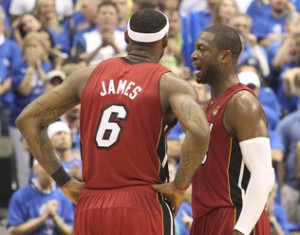 Dwayne Wade and Michael Jordan.
There has been a lot of talk about Lebron being better than MJ. I don't like to gossip, and I ain't Scottie Pippen, so you ain't heard that from me.
Last night it was Wade, not Lebron, who took his game to a Jordan-esque level in carrying the Heat to a hard fought win in Game 3. He couldn't be stopped. What made it so special was that he knew it.
Like Jordan, he was demanding the ball and delivering when he got it.
Like Jordan he was calling out his teammates, including Lebron, when he felt that they had let him down.
No one, I repeat no one, will ever be better than Jordan.
But for one night, Wade channeled Jordan. If it happens again, the Dallas Mavericks are in trouble.
************************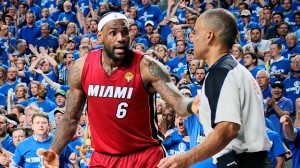 Speaking of Lebron.
Last night my girlfriend wondered why Lebron was sitting down against the padding at the base of the basket, while the ball boys cleaned up a spill.
"Does he really need to sit there like that?"
The only answer I could think of, after watching Lebron act like Kobe Bryant every time the whistle blew was, "He's a dick."
It may seem like harsh criticism, but is there anything more dickish than showing up some guys trying to clean up a spill, so he doesn't slip and crack open his egomaniacal skull?
Anyone…
Anyone…
************************
The folks in charge of the French Open peed in the fountain with someone who doesn't care whether you watch their event or not.
I'd comment on the French Open Final, but those arrogant Frenchmen televised the final match at 9am on a Sunday morning.
There are very few things that would be worth getting up at 9am on a Sunday for. A guy with a robotic personality, hitting balls at a guy who never loses when playing on orange dirt, isn't one of them.
***********************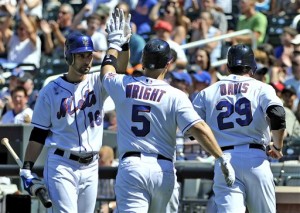 I learned something very startling this weekend, and I feel that I should share it with you.
The New York Mets peed in that magical fountain with an actual baseball team.
It's true.  They got uniforms and everything.
——Corey
9 Responses to "Weekend Recap: The Change Up Edition"
Leave a Reply