// June 15th, 2011 // 8 Comments » // Uncategorized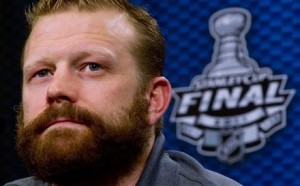 On Monday night, it was the best of times for Tim Thomas. Roberto Luongo on the other hand? Not so much.
As he has done all series long, The Boston Bruins net minder kept his mouth shut and answered his doubters with another spectacular performance, leading his team to a 5-2 Game 6 victory over Luongo and his beaten down Canucks. In the wake of Roberto's idiotic attempt to get in the head of the Bruins goalie, Thomas could be seen doing backflips on his water skis.
After insulting Thomas by attacking his style of play, Luongo proceeded to give up three savable goals in the middle of the first period before getting yanked for Boston College alumn Corey Schneider. Now Luongo has to take his greasy, Jheri-curled mullet back to Vancouver where the fans and media are waiting to strap truckloads of pressure onto his shoulders. Just like the source of Roberto's new nickname learned earlier this week, "Lebron"go discovered it's not what you say, it's how you play.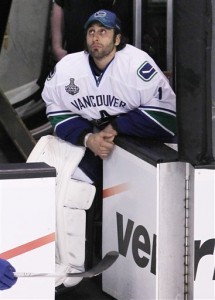 And contrary to how it has been scripted so often in past wins on enemy soil, the Vancouver fans won't be upset at the Boston players if they end up hoisting Sir Stanley's Cup on their home ice Wednesday night. They'll be calling for the heads of the Sedin twins and Luongo will be put in a pod and promptly launched into space (they have one built specifically for this reason). Vancouver might be known for having the nicest people on the planet, but when it comes to hockey, all bets are off. British Columbia has a version of the Meadowlands and their own shady burials, with 90% of the shallow graves dug following hockey disputes (see Journal of Canadian Science – Fall Issue 2002).
If this were a movie, Luongo would be comparable to the dumb-witted Rocky Balboa always sticking his foot in his mouth. The atypical hero who shows flashes of brilliance but for the most part, no one has the least bit of confidence in. Thomas would of course play the part of the stone-faced Soviet Ivan Drago, an impenetrable, machine-like force ready to pummel a clearly outmatched opponent. If Game 7 was taking place on the set of a Hollywood Studio, Luongo would finally draw blood from the stoic Thomas, which would bring Roberto and his Vancouver teammates the much needed confidence to overtake their enemy during the climaxing scene of the film. But this isn't a movie, and Tim Thomas doesn't bleed. He's an unflinching, oddly flexible zombie whose favorite pastimes are stopping pucks and eating brains.
If Tim Thomas can bring a victorious performance with him on the plane to Vancouver, Roberto Luongo will become the Canuck version of Bill Buckner, and every Canadian citizen will get a chance to personally tar and/or feather him. If that happens, Luongo could only pray for a trade (preferably to a team within US borders) and could never return to the beautiful province of British Columbia without acquiring a really convincing fake mustache.
Unlike his flappy-mouthed counterpart, Tim Thomas isn't feeling the least amount of pressure. Right now, Thomas's pondering thoughts are closely mirroring the lasting words of Dickens; It is a far, far better thing that I do, than I have ever done; it is a far, far better rest that I go to than I have ever known…if I can take the Cup back to Boston.
Prediction - Bruins overcome the crowd noise and Luongo's psyche ends up cracking like that stupid egg you were supposed to protect in high school to prove you could raise a kid.
Final - Bruins 3 – Canucks 1 
—–Seth Newton